The Yukon is a perfect destination for outdoor enthusiasts. Rivers run for kilometres, the hiking trails are endless and there are still tons of things to do once the snow comes!
Camping
Image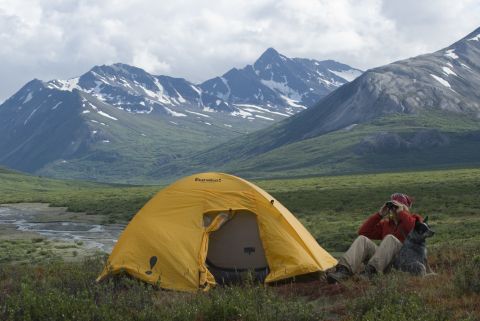 People who like camping, love camping in the Yukon! Pull off the highway into one of 42 territorial campgrounds found throughout the Yukon or journey to the various back-country campgrounds or have a relaxing day at the many day-use recreational sites across the Yukon. This guide covers all that you need to know before packing up your gear and setting off on your next camping trip.
Canoeing or kayaking
With everything from quiet lakes to world-renowned rivers, the Yukon serves up endless places to dip your paddle. The Yukon offers a wide variety of options for every skill level and paddling preference. The Yukon River runs right through the capital city of Whitehorse, and many other communities sit along rivers or close to lakes. Floatplanes provide access to the more remote areas
Cycling, fat biking and mountain biking
For recreational and long-distance cyclists, Yukon routes vary from relaxing sightseeing rides to challenging brag-worthy summits.
The Yukon's long stretches of scenic highways appeal to distance riders who are prepared to make repairs roadside and encounter wildlife. For a ride through expansive wilderness landscape paired with the camaraderie of cycling with others, join the Kluane Chilkat International Bike Relay - 238 kilometres between Haines Junction and Haines, Alaska. Relay teams, solo riders and support vehicles travel from fresh mountain air, across an international border and down to the salt air at sea level.
The Yukon has also become a top destination for mountain bikers. Consider downloading this Whitehorse Trail Guide app. With over 700 kilometres of local and neighbourhood trails in the Whitehorse area alone, the app focuses primarily on the non-motorized recreational trails that are becoming world-renowned for their accessibility, variety and epic views. Plus, the app works without a cell signal or wifi.
In the winter, you're likely to see people getting around town on fat bikes. Named for their thick, oversized tires, "fat bikes" are designed for ideal traction on snow.

Dogsledding
Image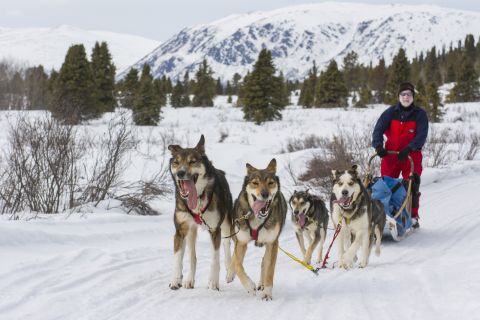 Gorgeous winter scenery, excited sled dogs and a thrilling ride make dogsledding in the Yukon a unique and unforgettable experience.
Many tour operators are close enough to a town that it's easy to fit in a half-day adventure, if that's what your schedule allows. But there are a range of options, including overnight excursions where you'll help care for the dogs, sleep in a remote wilderness camp and watch for the magical northern lights.
Fishing
Almost every Yukon community is close to a body of water, so you will not have to go far to find somewhere to cast your line. Lakes, rivers and streams are home to numerous species. With warm days and extra-long hours of daylight, summer is a popular time for fishing. Coming when the lakes are frozen over? Ice fishing is exceptional here, too.
Yukon fishing licenses are available online, from some tour operators and at various places throughout the territory.

Golfing
Image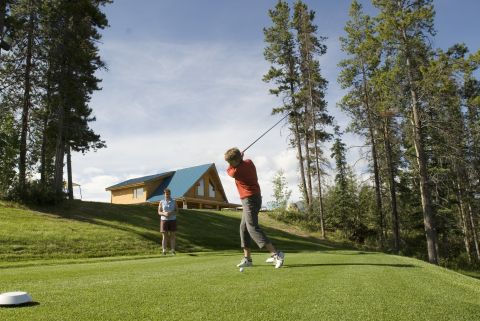 Not surprisingly, you will not find stuffy private clubs in the Yukon. Instead, discover epic courses that combine warm local hospitality, beautiful northern panoramas and even the chance to spot some wildlife. You'll find golf courses in Whitehorse, Faro, Watson Lake and Dawson City.
Various tournaments take place over the golf season, but the annual Midnight Sun Golf Tournament in Dawson City is special. Scheduled on or near the summer solstice, this event invites you to tee off at midnight in a celebration of the longest day of the year.
Hiking
No matter where you are in the territory, you'll find nature trails nearby. Some are popular and well-used with interpretive signs that point out different plants, birds and historic sites along the way. Others go deep into untouched wilderness where the only sign of civilization is the trail. Or you may choose to grab a map and go where there is no trail at all. For information on detailed hiking routes in the Yukon, visit yukonhiking.ca

Hunting
Image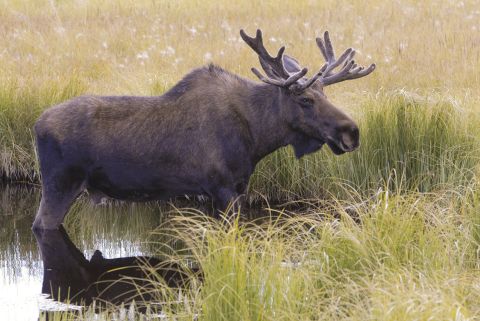 For millennia, Indigenous Peoples here have practised subsistence hunting, taking an animal with respect and using it without waste. Today, ethical hunting continues to be a way of life in the Yukon. It's not uncommon for home freezers to have far less store-bought meat than wild game.
The Yukon boasts a range of big game species, including wood bison, moose, caribou, grizzly and black bears, mountain sheep and mountain goats. You need a valid Yukon hunting licence if you want to hunt in the Yukon unless you meet the criteria for an exception. For more information, visit yukon.ca

Skiing
Skiing is an excellent way to experience winter in the Yukon, and whatever kind of skiing you like, it's here. In Whitehorse, 85 kilometres of world-class groomed cross-country ski trails take you through the snowy scenery of Mount McIntyre. For a unique and special experience, ski the 5 kilometres of multi-use trail along the fence of the Yukon Wildlife Preserve outside of Whitehorse where you'll see muskox, caribou, moose, mountain goats and many more other northern mammals in their various natural habitats. Many people also take to the backcountry to go cross-country skiing.
You can go downhill skiing and snowboarding at Mt. Sima in Whitehorse, as well as the Mt. Maichen Ski Hill & Chalet in Watson Lake.

Snowmobiling
Snowmobiling is a fun and fast way to cover plenty of ground, and offers the opportunity to get out to areas you normally would not be able to see. You can also ride out onto a frozen lake and give ice fishing a try.
If you'd rather just be along for the ride, tour operators know the trails, provide safety equipment like helmets and can supply warm outerwear if you phone ahead.

Snowshoeing
Image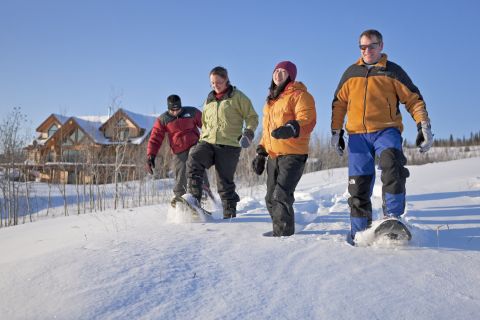 The best way to walk through even the deepest snow? Walk on top of it. Dating back thousands of years, snowshoeing is an enjoyable and efficient way to get around in the winter landscape. Hear the snow crunch as you follow tranquil trails that lead out to frozen lakes and up to beautiful views. Many Yukon species do not hibernate, so be sure to watch for signs of animals and birds.
If you do not have your own snowshoes, tour operators provide snowshoes, and many can also get you suited up with warm outerwear. Snowshoe rentals for self-guided treks are an option, but availability varies depending on what part of the Yukon you're in.